Our Latest Work
Here are some of our recent projects.
Our Services
A little about what we do.

Music for TV, Film & Commercials
Building on long experience of composing original score and soundtracks, Aeronaut studios offer a broad range of service suiting any production scale.

Recording / Mixing
Aeronaut studios include a Pro Tools setup with a first-rate selection of analog pre-amplifiers, microphones, tube guitar amplifiers and vintage keyboards.

Music Production
At Aeronaut studios we make an effort offering a devoted and distinct approach to independent and commercial music production.
Straight from the mixboard
A few updates from our coffee lounge
$pc = ($post_show_date) ? "" : "noDate"; ?>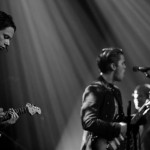 Kaleo have released the first single and a video from their second album. The song was recorded & mixed by Arnar G at Aeronaut studios and the video was made by a talanted group called Eyk. http://www.youtube.com/watch?v=FNwgOkl5nRY
The team
Meet the people behind the dials
Music is the universal language of mankind.

- Henry Wadsworth Longfellow

Music gives a soul to the universe, wings to the mind, flight to the imagination
and life to everything.

- Plato
Get in touch with us
Want more information? Are you interested in working with us?
Get in touch and drop us a line here.